Nassau County Museum, Heckscher Museum and Long Island Museum of American Art
Roslyn , New York- Huntington, New York- Stony Brook, New York
Bruce Lieberman
2019
May 3 - May 24, 2019
Opening Reception
May 3, 2019 6 - 8pm
Plein Air Painting Workshop
Saturday May 11, 2019 1-4 pm.
Parrish Museum Slide Talk
Bruce Lieberman began exhibiting in New York as part of the New York Figurative scene of the late 70's and 80's. He had his first solo show at the Pene…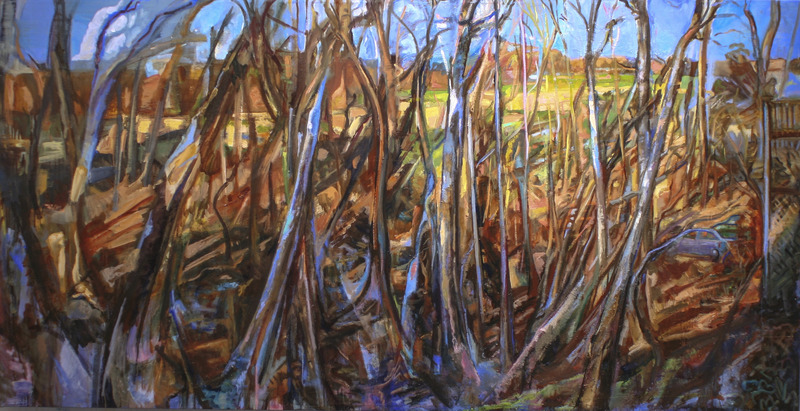 BRUCE LIEBERMAN

Recent Work 2014-2017

Dates of Exhibition: April 29 – May 26
Opening Reception: April 29, 4pm-6pm


Gallery North 90 N Country Road Setauket, NY 11733 Wed-Sat 10am-5pm Sunday 12pm-5pm 631-751-2676 www.gallerynorth.org

In the Footsteps of Corot – Painting in a Land of Origins July 10th – July 24th, 2017
Nassau County Museum of Art
A Feast for the Eyes, guest curated by Franklin Hill Perrell, explores how cuisine has always inspired artists. The exhibition opens on July 30, 2016, and remains on view through November 6, 2016. A Feast for the Eyes, a sweeping two-floor exhibition focused on food and dining in art, features works by a broad array of artists, including Audrey Flack, Red Grooms, George Grosz, Henri Matisse, Claes Oldenberg, Cindy Sherman and Andy Warhol, among many others.
Drawn from a wide variety of media, the exhibition offers viewers eclectic portrayals of feasts, eateries, restaurants, cafés, groceries, and table settings. Included are luscious depictions of edible delights by artists such as Ben Schonzeit, Gina Beavers, Luigi Benedicenti and Wayne Thiebaud. Berenice Abbott contributes iconic 1930s photographs of the Automat and other dining destinations of New York City. The designer Judith Leiber makes fabulous jeweled evening bags modeled after sensuous fruits and vegetables.
Stylistically, the works range from a classic 1908 still life by William Merritt Chase to a 1973 Pop Art painting by Roy Lichtenstein. Caricaturist Al Hirschfeld shows celebrity diners from stage and screen in his famed line drawings while The New Yorker's Roz Chast pens humorous cartoons on a range of culinary topics. Photorealistic works from the 1970s to the present day by Don Eddy, Ralph Goings and others portray a variety of gastronomic experiences. Among the Long Island artists represented in
A Feast for the Eyes
are Frank Olt, Susan Cushing, Richard Gachot, Bruce Lieberman, Christian White and Joe Szabo.
American Horizons, East to West: Landscape Painting and Photography
View Thru a Thorny Vine 30 x 30 oil
Permanent collection, Long Island Museum of Art, Stony Brook, New York
American Horizons, East to West:
Landscape Painting and Photography
February 27 through August 2, 2015
Drawn both from the LIM's own permanent collection and from notable private and museum collections, this exhibition focuses on the enduring landscape tradition in American art. From 19th century painters and photographers that include Frederic Edwin Church, William Sidney Mount, Winslow Homer and Thomas Moran, to 20th and 21st century painters and photographers including Ansel Adams, Jay Jaffee, Jane Wilson, and Robert Dash, this exhibition suggests the supposedly timeless nature of a fixed American landscape is illusory. Legions of artists have chronicled the nation's picturesque natural beauty while simultaneously cataloguing the complex human and environmental drama across the land.
Bruce Lieberman- East End
OPENING RECEPTION: October 17, 5-7pm
Generously sponsored by Alice Elman
Gallery

North

is pleased to present East End, an exhibition which showcases the exuberant and colorful work of Bruce Lieberman. Fully immersed in the Long Island experience, Lieberman captures the rhythm and textures of both land and sea.
BRUCE LIEBERMAN
The Anthony Giordano Gallery
96 Biltmore Avenue, Oakdale, NY 11769-1999 • 631.244.3016
SIGHT SPECIFIC September 3 – October 18, 2014
Reception: September 17, 2014 5:00 pm – 7:00 pm
Hampton Hang, Water Mill, NY 2013